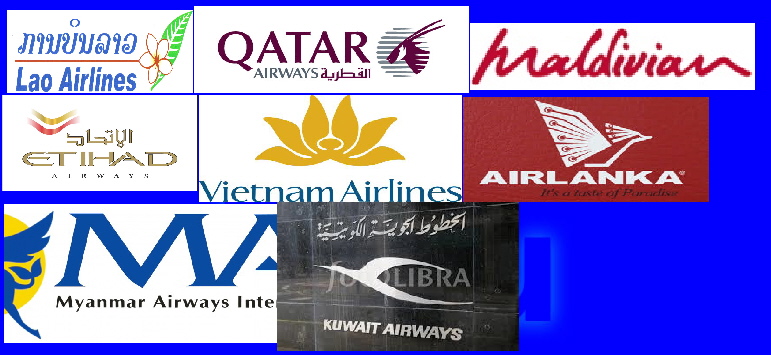 Linienflugziele
Flüge nach Colombo / Srilanka von etwa Juli 2018.,
Der Airbus 320-200 wird auch nach Colombo mit zwei Transitstationen aus Frankfurt über Thessaloniki und AbuDhabi mit ethnischen Passagierlasten auf wöchentlicher Basis fliegen. Das gezielte Datum dieser Flüge ab etwa Juli 2018.
Srilanka / Indien / Malediven / Vietnam und Thailand.
Sie buchen über uns ganz bequem Flugziele wie folgt .,
Colombo / Srilanka
Chinnai,Goa,Trivandrum / Indien
Male / Malediven
Hannoi / Vietnam
Bangkok / Thailand
Sie können Hin u. Rückflug auswählen Mon – Son

Qatar Airways, Emirates Airlines , Kuwait Airways und Turkmenistan Airlines ab/bis
Frankfurt, München.Düsseldorf oder Berlin.
Preise ab 680,-Euro pro Person pro Returnticket in Economy Class. Kinderermässigungen liegen bei, unter 12 Jahre zahlt nur 25% der Ticketpreis. Baby bis 2 Jahre nur 100 Euro
jedoch kein Sitzplatzanspruch.
Gepäck 30 Kg pro Person. Kind 12Kg und Baby 5Kg.    
Zur Destinationen Srilanka und die Malediven, sollten Sie Unterkunftbedarf haben so gerne vermitteln wir Ihnen Seperat zu Flug, Unterkunft Single / Double / Tripple,  Halb, Vollpension oder All-inklusive 3- 6 Sterne Resors.

ANGEBOT
Süd. Ari Atoll Malediven.,

Asia Inn Villa Retreat,
Guest House. ALL-INCLUSIVE Transfers mit beinhaltet.
Gültig bis 31 Oktober 2017 ALL-INCLUSIVE
Preise pro ÜbernachtungMinimum Aufenthalt 6 Nächte 7 Tage.

Einzelzimmer 130 €
Doppelzimmer 135 € Extra Person 55 € Kind 40 €
Superiorzimmer Upgrade 20 €
Gültig ab 01 November bis 30 April 2018 ALL-INCLUSIVE
Einzelzimmer 170 €
Doppelzimmer 180 € Extra Person 80 € Kind 55 €
Transfers., ab Flughafen Male Hulhule
a-Typ 1 Speedboot 1:30 Stunde / Minuten ODER
b- Lokal Ferry Boot Dhoni 4:20 Stunden / Minuten ODER
c- Wasserflugzeug 0:25 Minuten.
Accommodation., ALL – INCLUSIVE
• Daily meals – Breakfast, Lunch and Dinner with soft drinks
• Enjoy Daily Excursions and Activities as part of the package in our activity calendar
o Full day picnic adventure to "Sand Bank"
o Full day picnic adventure to "Two Palm Tree Island", "Dream Island", " Natural Pool Island"
o Visit to pristine reefs for snorkeling with personalized service
o Sunset Fishing
o Dolphin spotting and sunset cruise
o Kayaking (subject to charge)
o Day visit to Resort Island (subject charge)
• Airport pickup and drop
• FREE Wi-Fi
• Private Beach for Bikini
• FREE Bottled Drinking Water
• Package includes beach towels, beach chairs, beach umbrella.
Zuzüglich Flug mit Qatar Airways o. Emirates Airlines Preis p.P ca 780 € versteht sich Econom y Class.
Suchen Sie sich aus, wir stehen zur Verfügung.,
Kontaktieren Sie uns

Fragen, Wünsche oder Anregungen? Nehmen Sie Kontakt mit uns auf wir sind für Sie da……